Falafel with oriental style cabbage salad
4 Portions
Approx. 100 min.
Vegan
Ingredients
2-3

packages SOTO Falafel "traditional"

600 g

red cabbage

8-9 EL

white balsamic vinegar

60 g

raisins

2

carrots, grated

2

red onions

1/2 Bund

bunch cilantro

2 EL

maple syrup

3-4 EL

olive oil

2-3 EL

SOTO frozen pomegranate seeds

1-2 TL

white sesame seeds

some

salt, sugar, pepper
Preparation
01
Clean the red cabbage, cut into quarters and finely shred. Add 1 tsp of salt and sugar and 2-3 tbsp vinegar. Knead properly. Let sit for approx. 30 minutes.
02
Wash and drain the raisins. Peel onions and cut into thin strips. Wash and dry cilantro, pluck off leaves and keep 2-3 for garnish.
03
Combine 6 tbsp vinegar, salt, pepper and maple syrup. Add oil and whisk until fully combined. Add raisins, carrots, onions, coriander, pomegranate seeds and sesame to the cabbage and cover with dressing. Let fully soak for approx. 1 hour. Season with salt and pepper to taste.
04
In the meantime, prepare falafel according to instructions on the package.
05
Top the cabbage salad with falafel and sesame and garnish with fresh cilantro leaves.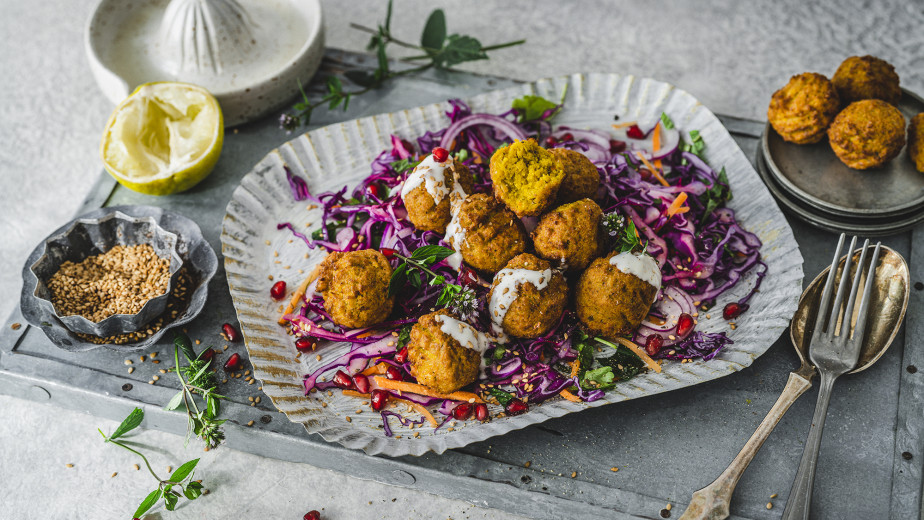 Enjoy!