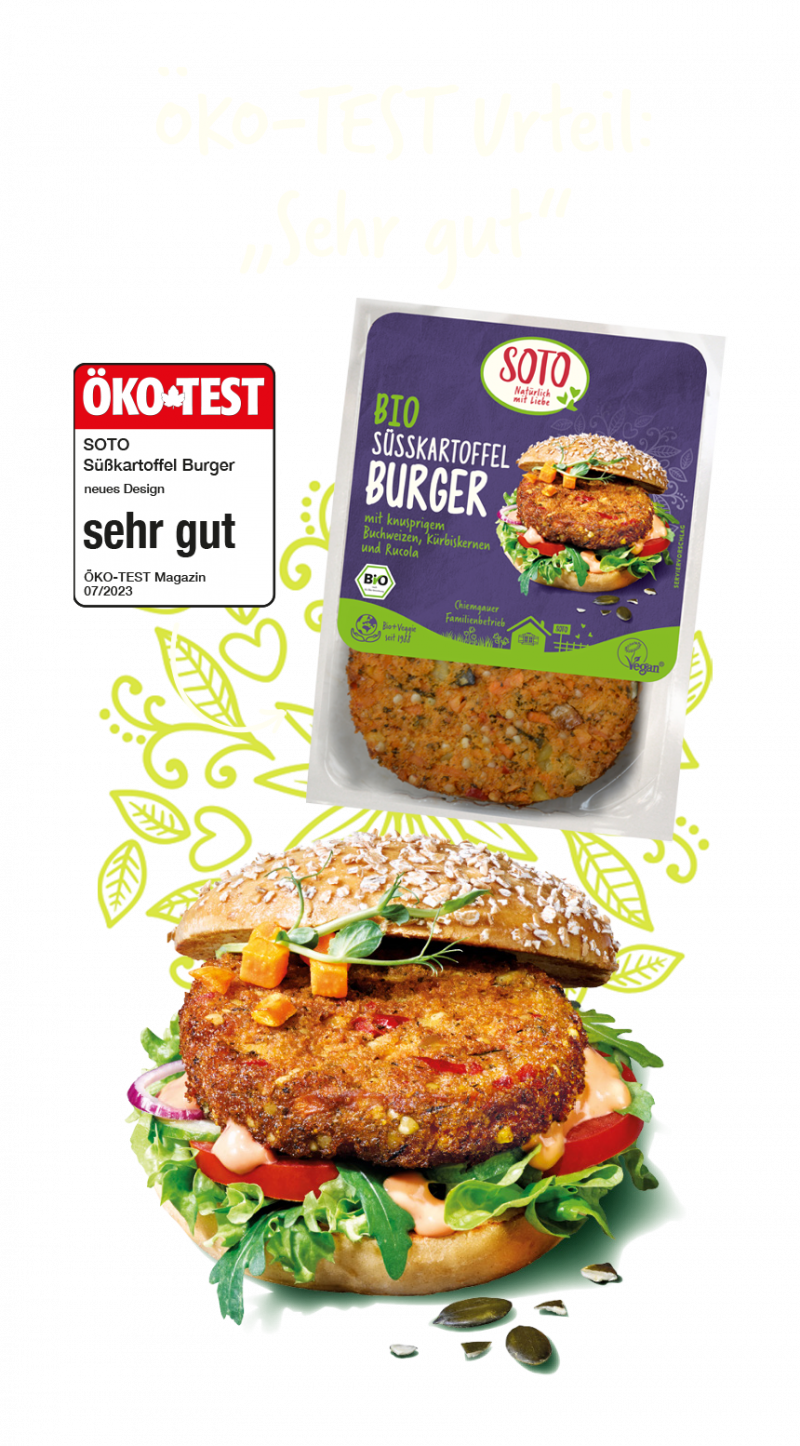 09/2023
Good? Even "excellent"!
You would like to receive more information about SOTO, our new products, awards and exciting changes? This page will provide you with the latest information concerning our organic SOTO products. Keep up to date via social media: Follow us on Instagram and LinkedIn.
Our SOTO Bio Sweet Potato Burgers convinced the jury of the German Test Magazine ÖKO-TEST.
Excellent ingredients, tasty vegetable pieces, spicy scent and further positive characteristics are the reasons for a very good overall ranking (see ÖKO-TEST Magazin 07/2023).
We are happy about the great result. The fantastic ranking confirms the value of our daily work and shows that we are on the right track with the production of our plant-based organic specialties made from natural ingredients.
What makes the burgers special? The combination of fruity sweet potatoes, crispy buckwheat and mild pumpkin makes the plant-based patties a wholesome highlight. Rocket, pumpkin seeds and cilantro add that special extra to the recipe. Our buckwheat comes from local farmers because we are happy to support our Bavarian agriculture and to create incentives that make a switch to organic farming more attractive. Additionally, we save unneccessary CO2 emissions by short transportation routes - an important step for climate protection!
Prepare a classic burger or add the burger in pieces to a wrap, salad or bowl. No matter how, the Sweet Potato Burgers are super tasty and can be enjoyed in many different ways.
Would you like to try the burgers? Find more information about the product and a delicious burger recipe on our page.