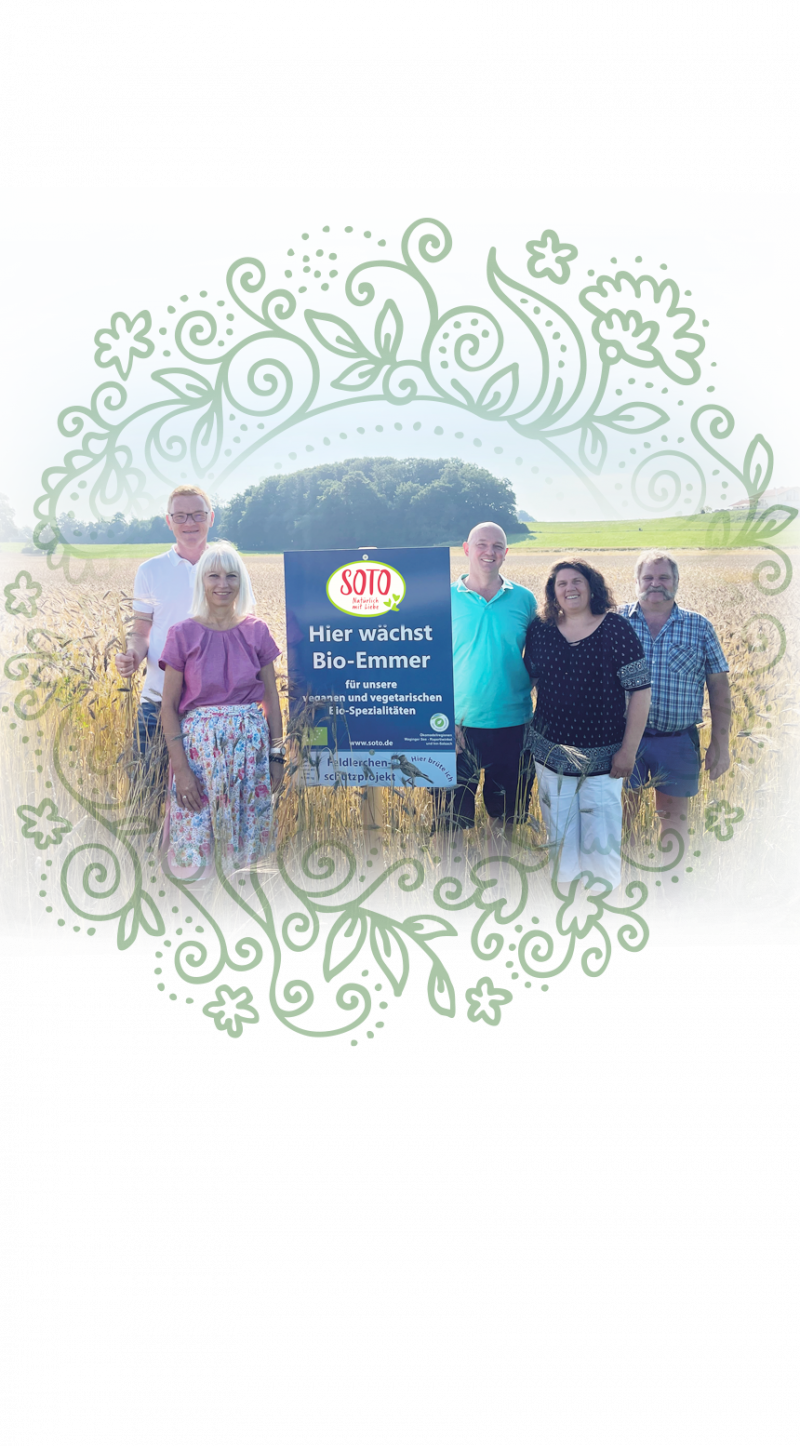 Sustainability: Today for tomorrow
Sustainable actions have been part of our core values from our beginnings.
Following topics are particularly important to us:
We love to use locally grown ingredients wherever possible
Our vegetables and grains originate from seeds that are used several times. This way, we ensure the survival of ancient species and a greater diversity for the future.
We preferably purchase regional ingredients. Short transportation routes save CO2 emissions and ensure a positive climate footprint.
We receive buckwheat, emmer grain and oats from local farmers nearby. Our chickpeas come from Würzburg, a Bavarian city in the region of Franconia. For us, this important partnership means the support of our local agriculture, creating incentives to switch to organic farming and the protection of our enironment and climate.
Due to the fact that we are located close to a national boarder, some of our ingredients do come from neighbouring countries. Transport in these special cases is faster and shorter than shipping the goods through the whole of Germany.
For the purchase of raw materials a variety of criteria needs to be considered. This means, it is not always possible to stay within a specific limited radius.
It is important for us to keep transportation routes as short as possible
Frozen peas, potatoes and sweet corn come from an adjacent region in Austria - ways are much shorter than receiving vegetables from the north of Germany. The farmers grow their veggies locally. After the harvest they are shock frozen and transported to our warehouse without any further delay.
The major part of our carrots and white cabbage comes from the Franconian wine-growing region. Our flours and flakes we receive from mills located in the close by Lower Bavaria.
Emmer grain, buckwheat and oats grow just around the corner
We receive dairy products from the Lake Constance region, the Allgaeu, the Chiemgau and the Berchtesgaden region. Our sprouts usually arrive within about an hour. Even our Tofu which is made from German soy beans is produced by a family-run business located in the Middle Rhineland.
Please find more information in our News section. Our "Know the origin" series introduces selected suppliers.
Our production is sustainable and climate-conscious
Our production site loves sunshine and water. It uses green electricity coming from its own photovoltaic cells and water power.
We love to share because sharing is caring! The heat that is generated by our machines during production is used for producing warm water and heating. As the machines generate more energy than we can use ourselves, some of our neighbouring company buildings also receive their share.
We do not waste anything. Our frying oil is transformed into bio-fuel and our organic waste is used to generate heat and energy.
Our products are packaged sustainably
For the packaging of your chilled products we use plastic that is made from 57% recycled materials. Thanks to a new packaging machine we generate less packaging waste.
Our frozen fruits and snacks come in cardboard boxes made from FSC-certified paper. They can be fully recycled.
Our outer carton boxes are also made from FSC-certified paper coming from sustainable forestry. Currently, we are exchanging the material with even more organic cardboard in order to save resources.
We produce under strictest hygienic conditions. All specialties are packed under modified protective atmosphere in order to avoid quality losses and food waste. Our products need to be packed in the most secure way possible to guarantee safe consumption.
All of our products get a second chance:
If a shelf life is too short for retail these products are sold in our very own factory outlet integrated in our production site in Bad Endorf. This means, our customers have the chance to benefit in two ways: with their purchase they save flawless food from being wasted and at the same time they save real money as we offer our high-quality specialties for a small price.
The heart of SOTO: Our employees
Our employees benefit from us as a regional employer. We provide safe jobs and apprenticeships with exciting tasks within an internationally acting family-owned company.
Everyone has the possibility to benefit from discounts in the regional gym as part of our internal health management. We make sure to provide our employees with ergonomically designed work spaces to help with physically demanding tasks.