Vegan cheesecake with berries
4 Portions
approx. 115 min.
Vegan
Ingredients
For the cookie crust:

175 g

vegan oat cookies

80 g

vegan butter

For the filling:

850 g

vegan cream cheese

400 ml

creamy coconut milk

170 g

sugar

4 tsbp

corn starch

1 tbsp

vanilla extract

Juice

of 1/2 lemon

For the berry sauce:

300 g

frozen SOTO berry mixture

1 Pkg

vegan red cake glaze

2 tbsp

sugar
Preparation
01
Coconut milk and cream cheese should have room temperature. Pre-heat oven to 175°C general heat. Prepare a round baking dish (diameter 24 cm) with some oil/butter, line bottom and sides with parchment paper.
02
Place the cookies in a food processor and mix into crumbs or put them into a freezer bag and crush them by using a rolling pin. Add the crumbs into a bowl and combine with melted butter. Add the mixture onto the bottom of the baking dish and press down firmly. Put into the fridge for approx. 30 minutes.
03
In a mixing bowl add the cream cheese and whisk with an electric hand mixer. Add the coconut milk, corn starch, sugar, vanilla and lemon juice and mix until creamy.
Spoon the filling onto the cookie crust and let sit for a few moments. Carefully, tap the pan onto the work surface to get rid of any still existing air bubbles.
04
Now, fill a deep baking pan or casserole dish and place on the bottom rail. Place the baking pan with the cake on a tray on the second rail and bake for approx. 50-60 minutes.
05
Turn off the oven and slightly open the door. Leave the cake for another hour. Afterwards, remove the cake, detach the edges with a sharp knife and let the cake cool off.
As soon as the cake has reached room temperature, put into the fridge and leave there over night.
06
The following day, put the berries into a pot and let defrost. Keep some explicitly nice looking berries for decoration at the end. Prepare the cake glaze according to instructions on the package and combine with the berries. Spread the glaze onto the cake and decorate with the nice looking berries. Let cool off for approx. 30 minutes.
Take the cheesecake from the fridge, remove from the baking dish and enjoy.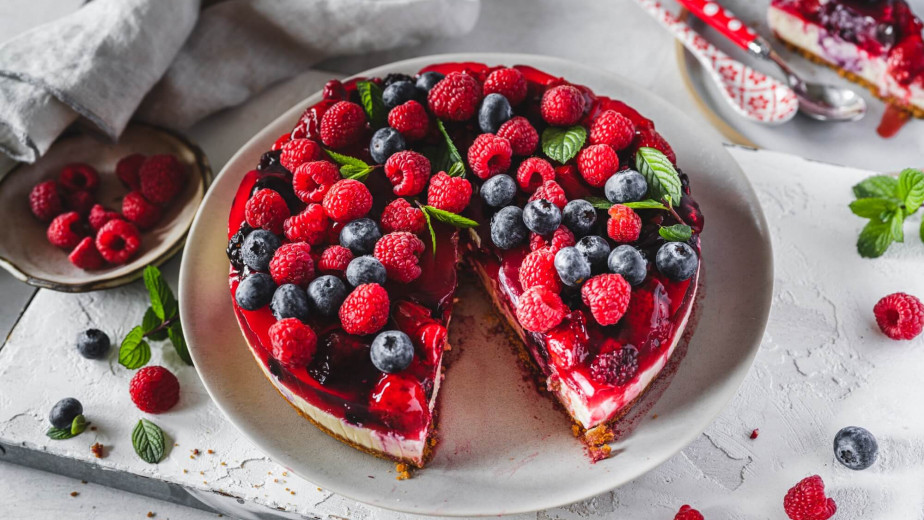 Enjoy!