Vegan pavlova with berries
4 Portions
approx. 100 min.
Vegan
Ingredients
1

package SOTO frozen berry mix

175 g

aquafaba (liquid from canned chickpeas)

1

pinch of salt

250 g

sugar

1/2 tsp

ground vanilla

400 g

vegan cream

200 g

plant-based yogurt to taste

50 g

powdered sugar

1 tsp

ground vanilla
Preparation
01
For the meringue mixture whisk aquafaba up with salt until it becomes thick, frothy and pale. Slowly add sugar and whisk for another 10-15 minutes until the sugar is completely gone and the mix is stiff. Carefully add 1/2 tsp ground vanilla.
02
Pre-heat the oven to 90°C fan. Defrost the berries.
03
Line a baking tray with parchment paper and fill the meringue mixture into an icing bag. Form a circle of around 22cm diameter with the help of the bag and add some extra splotches around the edges. Put the baking tray in the oven for approx. 60-75 minutes. The pavlova is ready when it can easily be peeled off from the parchment paper. Remove the tray from the oven and let the pavlova completely cool off on a baking rack.
04
Whip up the vegan cream. Combine plant-based yogurt with powdered sugar and vanilla and add the whipped cream. Put the cream into the fridge for approx. 20 minutes.
05
Fill the pavlova with the cream and top with berries.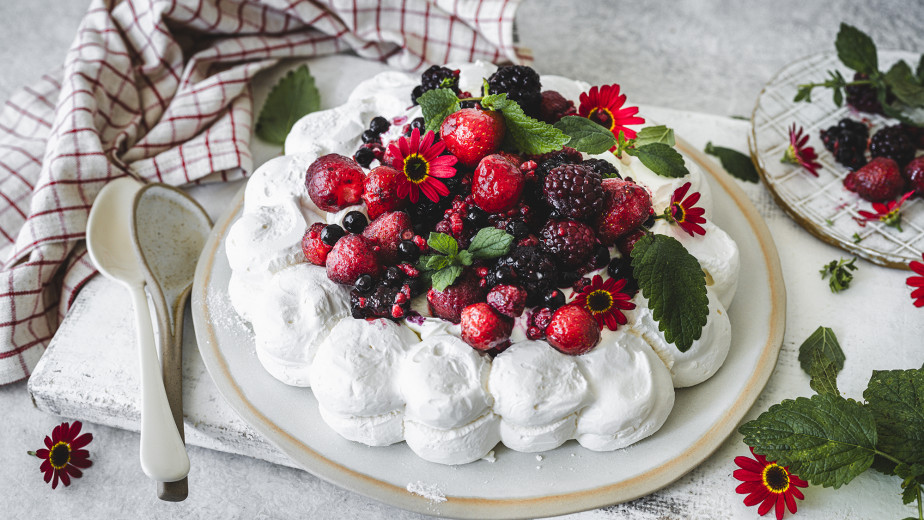 Enjoy!