Lentil hummus, oven roasted vegetables and Lucky Stars
4 Portions
approx. 40 min.
Vegan
Ingredients
2-3

packages SOTO Lucky Stars

Root vegetables to taste (carrots, parsnips, parsely root)

1 tsp

curry powder

2 tbsp

olive oil + some for garnish

100 g

red lentils

200 ml

vegetable broth

60 g

walnuts

2

small gloves garlic

2 tbsp

tahini

2 tbsp

lemon juice

4 branches

parsley (only leaves)

some

salt and pepper

other herbs to taste: cumin powder, coriander powder, chili, black cumin seeds
Preparation
01
Pre-heat oven to 200°C conventional heat. Wash and clean the vegetables, cut into pieces and spread onto a baking tray lined with parchment paper. Sprinkle with curry powder and 1 tbsp olive oil. Knead the vegetables until fully covered with oil. Bake in hot oven until it is soft and slightly golden brown.
02
Cook the lentils in a pot in 200ml vegetable broth at medium heat until done. The liquid should be fully soaked and the lentils should be soft.
03
Roast the walnuts in a pan without oil until they are slighty brown and fragrant. The nuts are ready once golden brown with a strong, toasted smell. Let cool off and chop roughly.
04
For the hummus, add the cooked lentils, the chopped walnuts, the garlic cloves, tahini, lemon juice and parsley to a mixer. Mix until smooth and creamy. If the mixture gets too try add more water to it. Season to taste.

Prepare the lucky stars according to the instructions on the package.

Add the hummus to a plate and serve with oven roasted vegetables and lucky stars. Garnish the whole dish with some olive oil, parsley, chili and black cumin seeds.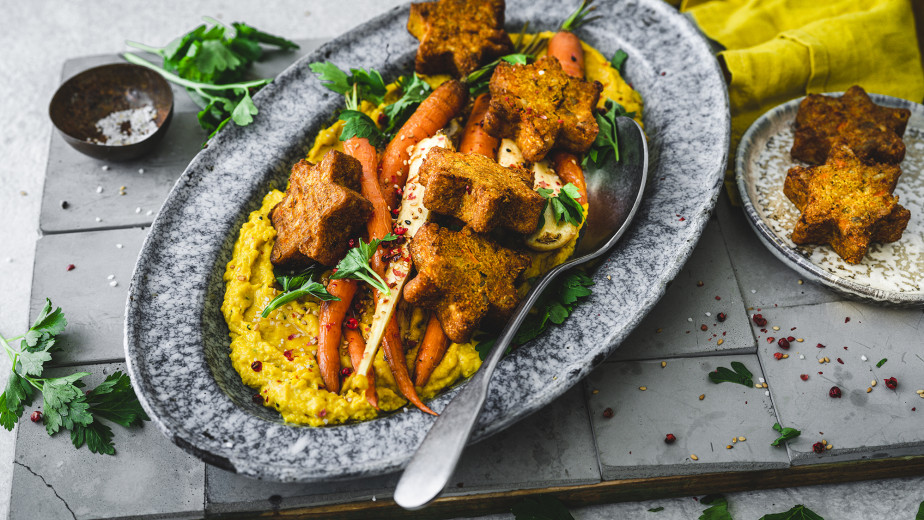 Enjoy!